Polyaspartic Floor Coatings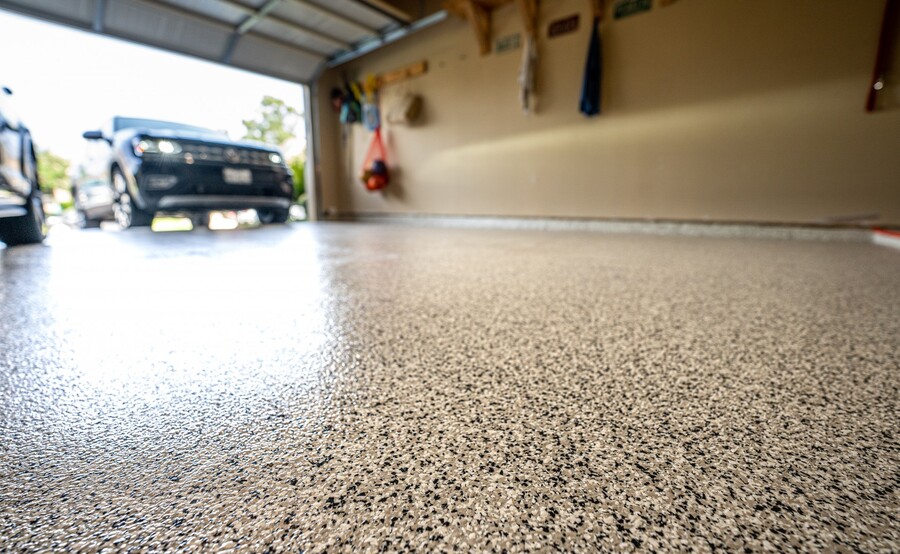 What are the differences between Epoxy and Polyaspartic Floor Coatings?
Epoxy coatings: Tend to offer only two layers of protection over a surface. These perform well in heavy industry settings because they offer increased chemical resistance and good substrate protection, and are less permeable with greater hardness. Epoxy coatings also can tolerate exposure to many industrial chemicals. For instance, surfaces protected by epoxy coatings stand up well against sulfuric acid, which is used in a wide variety of industrial processes. However, certain organic acids present in food production, such as nitric acid, can harm epoxy coatings.
---
Call for a FREE Quote
---
One Day Floors with Polyaspartic Floor Coatings by 5 Star Concrete Coatings, LLC!
Polyaspartic Floor Coatings by 5 Star Concrete Coatings, LLC
Labor and Application of Polyaspartic Floor Coatings:
Polyaspartic technology eliminates a step in the coating process compared to epoxy and urethane combinations, saving labor and material costs and shortening project timelines. The esters can be manipulated to control drying time and extends the pot life (the time in a bucket it can be used before hardening too much), allowing assets to be put back to use more quickly. Polyaspartic coatings also can be formulated for application and curing at temperatures well below freezing.
Durability:
While relatively new on the industrial coatings scene this hybrid coating, similar to polyurethane, has become a much better choice when it comes to garage floors, businesses, and coating the interior/exteriors of all types of structures which is why 5 Star Concrete Coatings, LLC uses this process. Polyaspartic Coatings are used to protect structures such as exterior concrete, barges, or tanks from harsh weather conditions because of their versatility and offer better impact resistance being 4x more durable than epoxy.
Flexibility:
Innovations in technology have made these coatings a more versatile option compared to epoxy and urethane coating systems. Polyaspartic formulations now have low adhesion values, and applying polyaspartic floor coating in a single coat accomplishes what traditional epoxy and urethane systems need two coats to do. These polyurethanes can be softer, offer better color and gloss retention, and are more flexible. Traditional epoxy coatings for garage floors can often take up to a month to fully cure, as opposed to a few hours for polyaspartic floor coatings, this can often be the deciding factor for application in a busy family home or business. Try our One Day Coating Service and know you'll still have time to play with the toys in the garage you've been waiting all summer to use, while still being able to park them back in the garage at the end of the day.
Why Should You Use 5 Star Concrete Coatings, LLC?:
Polyaspartic Floor Coatings are not generally considered a do-it-yourself installation and require a minimum of two people. Depending on the formulation, the average pot life of polyaspartic is only 20 to 30 minutes. The speed and accuracy required is daunting if you have never installed this type of coating before. Get the best results by choosing 5 Star Concrete Coatings, LLC to install your polyaspartic floor coating and get that "One Day Floor" down before you have a chance to miss the open space!
Pros & Cons of 5 Star Concrete Coatings, LLC Polyaspartic Floor Coatings vs Epoxy:
| | Polyaspartic | Winner | Epoxy |
| --- | --- | --- | --- |
| Air Quality | Low VOCS and virtually no off-gassing makes this product odorless | Polyaspartic | Off-gassing can decrease air quality so protective breathing gear is important |
| UV Stability | Wont fade or yellow even after extended exposure | Polyaspartic | Some products could fade or yellow after extended exposure |
| Drying Time | One hour or less per layer | Polyaspartic | Up to 16 hours of drying time per layer |
| Durability | Hard flexible finish is more durable and wont chip scratch or scuff | Polyaspartic | Hard durable finish but rigid texture is still vulnerable to abrasions |
| Cost | May be more expensive and may require extra installation costs | Epoxy | The more affordable solution |
| DIY | Can be applied with a squeegee or roller brush but quick drying time requires accuracy | Epoxy (Winner if Doing It Yourself) | Can be applied with a roller brush and longer drying time allows more flexibility |
| Non-slip | Smooth surface increases slipping risk so additives for non-slip are recommended | Epoxy | Not AS slippery as Polyaspartic but traction additives are still an option |
---
Call for Fast FREE Quote
---