Industrial Concrete Coating
with Polyaspartic Coating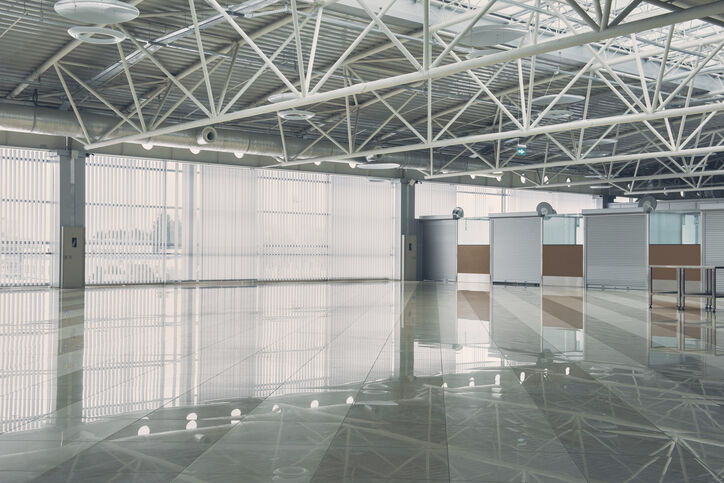 Industrial or commercial concrete is increasingly used in building business facilities, including retail stores, warehouses, and restaurants. High traffic placed much greater demands on commercial concrete floors than residential concrete such as is found in garages. Concrete coatings for industrial settings must be more durable and resilient to keep facilities looking and performing optimally. 5 Star Concrete Coatings, LLC has been applying coatings to industrial flooring for over 23 years. If you are looking for a professional coatings contractor for your industrial building, call the pros at (475) 600-0678 today.
---
Call for a FREE Quote
---
Advantages of Industrial Concrete Floor Coatings
Concrete flooring is frequently used in commercial settings because it is an inexpensive material that is readily available. Untreated, concrete is bland looking and very porous. 5 Star Concrete Coatings, LLC's skilled floor coating application specialists can turn drab concrete floors into high-performance, attractive flooring options.
Benefits of Polyaspartic Coatings vs Epoxy
Polyaspartic floor coatings are a great alternative to epoxy floors. There are many benefits that make Polyaspartic coatings a better option for your industrial floors. A few notable benefits of Polyaspartic floors are:
Easier application in a variety of weather conditions

Quick drying times, under an hour.

Stain and scratch resistant

Better Color and Gloss Retention

Low odor and VOCs

Less likely to bubble from outgassing
Why Choose 5 Star Concrete Coatings, LLC Industrial Floor Coatings
Because industrial settings offer many challenges for concrete flooring, finding a commercial coatings expert who uses high-performance products is imperative. Commercial flooring has to withstand heavy traffic, staining and scratching. 5 Star Concrete Coatings, LLC utilizes commercial-grade epoxy coatings that will hold up day after day, month after month, allowing for great-looking, easily maintained industrial flooring.
Epoxy Coating Options
Just because you are looking to apply concrete coatings to an industrial floor does not mean you've got to go with ho-hum boring products. Today's commercial concrete epoxy comes in a variety of colors and textures to create the look and feel needed to customize or upgrade any business. For example, retail shops are adding colored epoxy to create a polished, upscale look that is easy to clean and slip-resistant. Modern restaurants are adding metallic epoxies for a trendy look. High-gloss concrete finishes that reflect lighting are attractive choices as well. Whatever look you are hoping for, 5 Star Concrete Coatings, LLC can help you achieve it with industrial concrete coatings.
---
Call for Fast FREE Quote
---